After writing a post I noticed Kristin at A Teeny Tiny Teacher and Hadar at Miss Kindergarten are hosting a PARTY and everyone knows how much I LOVE parties so I decided to join in, you should too. It will be fun.
So here it goes thinking about the past while ringing in the new.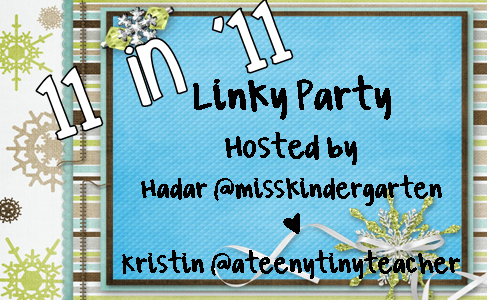 11.
Favorite movie you watched
I wish I could say Footloose Because I REALLY wanted to see it when it came out, but I never did
L
I'm waiting for it to come out on DVD. I got The Help for Christmas and really enjoyed it, so I guess that would have to be my favorite. Can you tell I don't see many movies?
I love The Good Wife. I liked
Julianna Margulies when she was in ER and I really like her as The Good Wife.
Teds. Mexican. (I grew up in Arizona with REAL Mexican food). Ted's is the closest I've found to the good stuff I grew up with. BUT since we don't have Teds here in our town (or much else) Enrique's is the next best thing.
8.
Favorite new thing you tried
I guess my new IPhone. It's pretty cool even though I still don't have it all figured out.
7.
Favorite gift you received
My new sewing machine for my birthday I hope to spend more time on it in 2012. My goal is to make MANY Christmas presents next year.
6.
Favorite thing you pinned
A wrap bracelet that I showed my daughter and she learned to make. She has now made bracelets, key chains, and hat bands (that my brother has sold in his hat shop).
My favorite post comes from my first blog. I joined in the Slice of Life Challenge last year in March that the Two Writing Teachers host each spring. It is about my daughter and the mornings we share. Not very Teachery I know but you did say MY favorite.
4.
Favorite accomplishment
I started and completed my first class of Graduate School at OSU, with an A no less!
Me and my family and my oldest brother and his family at my mom's surprise 75th birthday party, my other brother and his family couldn't make it.
Our trip to Indiana to the All Write workshop with Katie Ray Wood, Debbie Miller, Ann Marie Corgil, and tons more amazing presenters. I hope I get to go back again this year.
Learn more, read more, write more, see more, listen more, love more, do more, be more...
This is what I was posting before I found the fun linky party....
I have noticed that many blogs are already talking about New Year resolutions and goals as teachers for the coming year. I too have been thinking about the New Year, and what it will bring. For the past few years I have done as the Two Writing Teachers blog about and try to choose One Little Word (OWL) to help me remember where I am going and who I choose to be. I have had words such as inspire, aspire, lead, family, and last year- energy. But this year I seem to be at an impasse.
I read somewhere once that instead of making "resolutions" (a resolve or determination to do something) you should make a list of "intentions" (an ACT or instance of determining MENTALLY upon some ACTION or RESULT). So this year my plan is to make a LIST of INTENTIONS. My list will be broken down by month and maybe even weeks.
When I think about our kiddos and what we ask of them I think showing them how to set a list of intentions along with goals can help them find success in the smallest of steps which in turn can help lead them on the path to fulfilling all their goals.
For instance when I ask a child to read a specific number of books on their level (AR for many of us) I will fist ask them "what are your intentions for making this goal?" "how do they intend on keeping on track?" and "what do they intend to do once they meet (or don't) meet their goal?" For first graders I plan on breaking this into weekly goals or intentions, but for older students every two weeks, monthly, or every nine weeks would work. Now to work on an "Intention Tracker" to help them keep it in their mind and to help them (and me) keep on top oftheir progress.
Now back to my OLW
…
I have been having trouble deciding this year. I want something that I can Connect with and will remind me to Act on my intentions and stay Focused when I start to drift, and it has to be a word that I see often and keeps me Engaged and Energized. These are the words I came up with last night when I couldn't sleep.
I wrote them down and then I knew my word. CAFE. It's not naturally inspiring or inventive, but it is a word I will see every day and one that helps me remember what is important to me. When I connect with all the wonderful teachers and bloggers it reminds me to act on the important things for myself and my kiddos. I am better focused when I am doing what I enjoy such as writing and blogging. And I am engaged in many wonderful ideas, thoughts, and inspirations for my classroom as well as my own life when I am focused, connected, and acting on my strengths.
So now I have it. CAF
É
. Do you have yours?