Good Gravy have you seen the AMAZING giveaways out there??? I really shouldn't let you in on them but since I'm not so whoopee at keeping secrets I'll tell just a few of you, the rest of you close your
ears
eyes.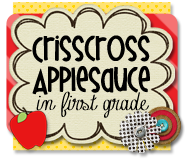 The first one is from
Holly at Crisscross Applesauce
she is almost to 400 followers (I think she is past that now) and she has a too cute new look. She is having some unheard of amazingly cool things to give away INCLUDING a guest blog from that
Teeny Tiny Teacher Kristin
!!! Personally I think my buddy
Kristin
should do that for me just cause we're both Okies and we both LOVE Ted's.... maybe if I offer to send her some tortillas.....
THEN
Jeannie at Kindergarten Lifestyle
is having a super cool giveaway too AND she has this really neat way to enter...I swear I am not technology educated enough to keep up with this blogging world. I wonder what I can bribe her with for a extra shot??? She's probably never heard of Ted's...Oh well I guess I'll just have to take my chances like the rest of you.
SPRING on over for these AHHH-MAZE-ING giveaway girls (and boys?) but be thinking you've got a better chance than me....remember I have Ted's!